1.Product introduction
Performer Scroll Compressors
Brand technique:Scroll compressor
Motor protection:Internal overload protector
Power connections: Screw 4.8 mm
Trademark:Perfomer (Danfoss)
HS Code: 8414301900


2.Product parameter(Specification)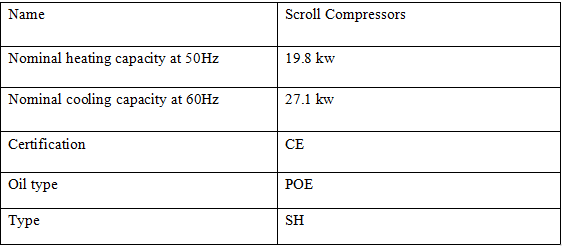 3.Product feature and application
50Hz date


Model Nominal Cap.(Btu/h) Power input(kw) COP(W/W) E.E.R (Btu/h /W)
SH090 76100 7.19 3.1 10.59
SH105 91600 8.47 3.17 10.80
SH120 102200 9.46 3.27 10.80
SH140 118400 10.86 3.19 10.90
SH161 132400 12.15 3.19 10.90
SH184 152500 13.73 3.25 11.10
SH180 151800 13.73 3.21 10.95
SH240 206300 18.77 3.22 11.00
SH295 249800 22.50 3.25 11.10
SH485 396900 35.75 3.25 11.10


4.Production details

Discharge connection pipe size [in]:7/8 in
Refrigerant charge [kg] [Max]:5.9 kg
Swept volume [cm3]:88.4 cm3
Maximum Operating Current [MOC]:19A
RLA:14.3A
5.Shipping, Payment,Delivery and Packing
1. For Sample order in stock, we aim to ship the compressor within 3 days.
2. For any Bulk order, generally we ship compressor in 10-15 working days after receiving deposit.
Every products will be in carefully inspection for many times before Packing.
Depending on the size and contents of your goods,
we generally use different size of wooden box of package to secure goods.


6.Our main lines

2. Danfoss performer compressors: SM, SZ, SH SERIES
3. Copeland compressors: VR, ZR, ZB, ZH SERIES
4. Maneurop piston compressors:MT, MTZ NTZ, MPZ SERIES
5. TE, TDE, TGE, PHT SERIES TERMOSTATIC EXPANSION VALVES
6·ETS SERIES EXPANSION VAVLES
7·EVR SERIES ECPANSION VAVLES AND
8·KP1,KP5,KP15 SERIES PRESSURE CONTROLS
9·DCL DML LIQUID LINE FILTER DRIERS