1.Product parameter(Specification)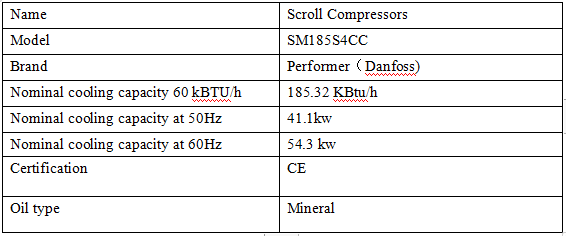 2.Product feature
Model Power(HP) Power input(kw) Capacity Qo(watt) Displacement (m3/hr 1450rpm)
SM090 7.5 6.54 21800 20.97
SM115 9.5 8.31 28000 26.97
SM160 13 11.60 39100 37.69
SM161 13 11.59 39000 37.69
SM175 14 12.46 42000 40.54
SM185 15 13.62 45500 43.48


3.Production details
Discharge connection pipe size [in]:1 1/8 in
Swept volume [cm3]:249.9 cm3
Maximum Operating Current [MOC]:35A


4.Product qualification
Certificate, certification, patent certificate:
1)."Quality Management System Certification"
2)."Shenzhen Science and Technology Enterprise Certification"
3)."Refrigeration Equipment Air Conditioning Maintenance and Installation Enterprise Qualification Certificate"
1. For Sample order in stock, we aim to ship the compressor within 3 days.
2. For any Bulk order, generally we ship compressor in 10-15 working days after receiving deposit.
2. Western Union